Advertising campaigns in the Blipvert Urban Recycle Stations
The Urban Recycle Stations are containers for selective collection designed by Blipvert Recologics so that, in an easy and convenient way, we can deposit the small household waste such as batteries, all kinds of small-format WEEE, light bulbs, CD's, printer cartridges, etc.
But Urban Recycle Stations are meant for something more.
Being located in the main streets, avenues and squares of towns, cities and municipalities, always in pedestrian areas, our recycling stations are also a magnificent opportunity for ecological communication.
A clean and effective communication for the City Councils, but also to publicize, show and promote your company, your products or your services, and collaborate with the environment.
Each recycle station has two panels for the insertion of advertising campaigns, protected with approved safety glass for use on public roads.
Elegant in their aesthetics, with a modern design that adapts and integrates into the urban space, practical and useful for efficient and clean recycling, they are also a magnificent "speaker" for your business, a local advertising support that facilitates the insertion of Advertisements of companies located in your municipality or very close to it.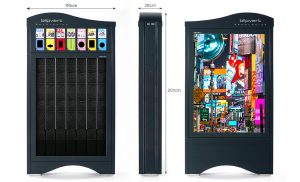 What are the advantages of advertising campaigns in Blipvert Urban Recycle Stations?
Always "visible" advertising
The advertising campaigns in the recycle stations "work" 24 hours a day in the spaces with the greatest concentration of public.
Proximity with your customers
In your municipality, city or neighborhood, always located in the main streets and squares, right in sight of everyone and close to you.
Elegant and practical
Due to their measurements and their design, they are a modern and friendly urban element, they are synonymous of safety, comfort and efficiency, and attract attention in a delicate but effective way, ensuring thousands of impacts for your business.
The fixing of the posters is comfortable, fast and simple
Removing and placing the posters is done in an easy and comfortable way in just a few minutes.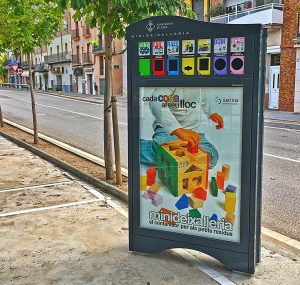 How to hire an advertisement in the nearest urban recycle station?
Fill in the contact form that appears on the web, or write us an email to blipvert@blipvert.es, or call us at the telephone number 93 846 71 85, and we will inform you of all the possibilities and advantages of contracting a proximity advertising campaign in the Blipvert Urban Recycle Stations.